Del Monte Golf Course: An Old-Timer Ages Gracefully
In 1954 a young soldier from nearby Fort Ord shot the course record at the Del Monte Golf Course, the oldest course in continuous operation west of the Mississippi River. His name is Ken Venturi and his 62 stood alone until Todd Gjesvold equaled it in 1996.
"I recently talked to Mr. Venturi and he told me after he shot the 62 he came in the pro shop and asked them not to post the record -- he was reasoning some of his superiors back at Fort Ord might think he was playing too much golf or playing when he should be on duty," said PGA pro Chuck Dunbar.
Now coincidentally, another former Fort Ord soldier, Clint Eastwood, is nearing a deal to acquire The Pebble Beach Company, along with Arnold Palmer, Peter Ueberroth and Richard Ferris.
The investor group also includes a number of other friends and the acquisition includes Pebble Beach Golf Links, Spyglass Hill Golf Course, The Links at Spanish Bay and Del Monte Golf Course as well as other resort properties.
Some folks affectionately call it "Old Del Monte" since it opened in 1897. When Dunbar looks at pictures on the walls he sees Bobby Jones and Walter Hagen. And he also sees a predecessor -- Peter Hay, a legend in Monterey, who was Del Monte's pro from 1919 to 1942 when he moved over to Pebble Beach. Johnny Miller, who is building a new home in next-door Pacific Grove, still enjoys playing Del Monte with his sons.
"When Pebble Beach was opened in 1919 a lot of people referred to it as Del Monte No. 2," Dunbar said. "In the beginning most people preferred to play at Del Monte. One of the features people recognized all over the country was that Del Monte was one of the first golf courses in the USA to have grass greens. Because of our mild climate they were green all year."
"The original Del Monte nine-hole layout was built as an amenity to the Hotel Del Monte (now the Naval Postgraduate School) and it was considered the best place to play any where on the west coast," Dunbar said. "All the rich and famous came here and in 1899 it was expanded to the current 18-hole course."
Actually, Dunbar said, the San Francisco Golf and Country Club was older, built in 1895 on the grounds of the U.S. Army's Presidio. But in 1905, San Francisco Golf and Country Club decided to move south of the city. The Army insisted on drilling and camping out on the golf course, halting play for periods of time, and in 1917, during World War I, the layout was a constant training site. The Presidio Golf Course is now open to the public and is run by Arnold Palmer management.
Designed by Charles Maud, Old Del Monte has a slope rating of 122 and plays only 6,339 yards, par 72. It is lined with Monterey pines, oaks and cypress trees. Add lots of bunkers and tricky greens and you have a fun, scenic test. Situated inland on the Monterey Peninsula, the course is further distinguished by an absence of water hazards.
"It is a very traditional course," Dunbar said. "It's not demandingly long, but you need to be precise because the greens are very small and there are lots of bunkers and many coastal oaks with Spanish moss hanging from big canopies."
On the tee box at No. 1 you will see a green, lush fairway. The start is an par-five, 511-yarder. Just hit it straight. No. 2 presents a different challenge. It's a big dogleg left, par four only 328 yards, with trouble left and right. If you place it perfectly you will have a birdie chance. If you go through the fairway, which is easy to do if you take too much club, you might be in a bunker.
Of all the holes you may remember, No. 7 is it. It's uphill 380 yards with trouble on the left and right. You need some elevation on the tee shot or the second shot will be way too long. But the big surprise is when you get sight of the elevated green. It's got three tiers and a shot over the green will take a short-game magician.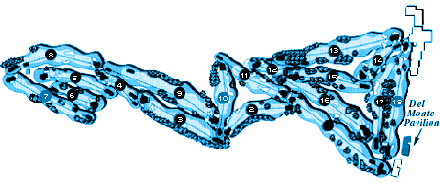 No. 10 is only 290 yards, but there are "church pew" traps on the right. The fairway narrows as you approach the green and the thinker will hit a long iron off the tee followed by a short iron to a left-to-right sloping green.
The par-five, 502-yard 13th, features a tee shot over a deep ravine and the next hole is a 217-yard, par three with bunkers surrounding the green.
There is a huge oak tree in sight on the 18th tee, a 369-yard par four. Keep the tee shot to the right of the oak or its canopy will block your approach.
"The course was in superb condition when I played it," said Andy Olson of Minnesota. "I was impressed with the shape of the fairways, tees and greens. The twilight rate we paid was truly a steal. The most challenging feature of Old Del Monte are the fast, contoured greens. I thought they sloped fiercely towards the ocean, making for a tough time with the flat stick. Most greens are protected by numerous bunkers, so an accurate approach is needed. It's definitely not the world's longest course, or the hardest, but I had a great time playing there. I will definitely try and play it again the next time I travel to the Monterey Peninsula."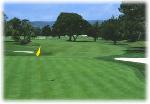 Del Monte played a prominent role in early 1900s women's golf and hosted the Pacific Women's Association Championship. It was the original host of the California State Amateur Championship. In November it is one of three courses hosting the Callaway Golf Pebble Beach Invitational.
For hotel guests of the Inn at Spanish Bay, the Lodge at Pebble Beach, and the Hyatt, green fees are $70. Outside green fees are $80. The course has special arrangements with other hotels in the area and guests of those hotels receive courtesy discount rates. Special discounts are also available for residents. Carts are $18 per rider.
There is a twilight fee of $20 which starts at 5 p.m., but varies throughout the year. A Dukes Membership is $175 which entitles you to play for $28 during the week and $40 on weekends. Carts are $25 and you get a free round for every 10 rounds you play. You also get discounts at Spyglass and Spanish Bay.
Del Monte is located just minutes from the historic downtown district. Heading south on Highway 1, take the central Monterey exit. At the first stoplight, go left on Aguajito Road and go back under the highway. Turn left at Mark Thomas Drive, then turn right at Sylvan Road to the course. The pro shop phone is 831-373-2700.