Hollins, MacKenzie: Early Golf Visionaries on Monterey Bay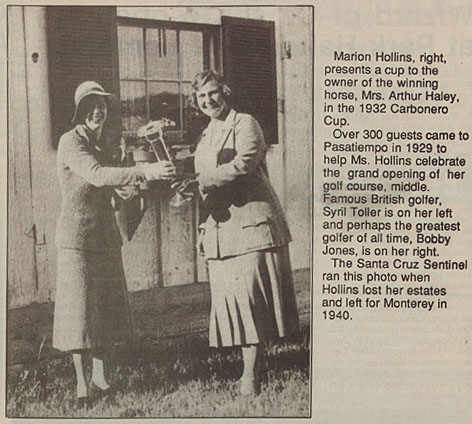 Back in the 1920s on the Central Coast, a sportswoman named Marion Hollins had visions for sports and recreation on Monterey Bay. A man named Alister MacKenzie helped bring those visions in to focus and now 70 years later that vision is alive in Pasatiempo Golf Club.
Today we would call her a sports entrepreneur, but back in the 1920s she was simply known as an adroit athlete and business woman.
Miss Hollins was born in 1892 was raised with four siblings on the family's 600-acre estate in East Islip, Long Island. The farm had a three-hole golf course and by the time she was 10 she was considered a good player.
"She was an accomplished equestrian, one of the best women polo players in the world and she won the U.S. Women's Amateur Golf Championship in 1921," said Bob Beck, historian of Pasatiempo Golf Club. "She was later to become the first Captain of America's Curtis Cup Team."
She liked to drive race cars, pack horses in to Big Sur and go to Paris on shopping sprees.
"And few remember her today for perhaps her greatest accomplishment, which was her involvement in the construction of the Women's National Golf and Tennis Club (1924), Cypress Point (1927), and Pasatiempo (1929)," said Beck.
But it was her involvement with Dr. Alister MacKenzie, the Scottish-born physician and golf architect, that really put a stamp on Monterey Bay golfing lore.
In 1922, Miss Hollins was living in the Del Monte Forest near Monterey and was working for S.F.B. Morse. He was developing the Pebble Beach real estate area. She was hired as his "athletic director" and started spreading the word about the beauty of the Pacific to all her friends back on the east coast.
Morse also asked her to help develop a first-class private golf club, Cypress Point, which was named after the point between Carmel and Pacific Grove.
Legendary sportswriter Grantland Rice may have been one of the first to write about Miss Hollins teeing up a shot that would become the world-famous 16th at Cypress Point.
"She worked hand-in-hand with Dr. MacKenzie at Cypress Point," Beck said, "and he gave her full credit for the design of the world-famous 16th hole, stating that she teed up a ball, drove it 219 yards across the roaring ocean, and said lets put the green there."
Actually, MacKenzie, who also put his stamp on Augusta National, had envisioned the hole as a short dogleg, positioning the tee shot just short of the green.
But while she was heading the Cypress Point development, Hollins had her eye on a piece of property in Santa Cruz. That property became Pasatiempo Golf Club.
"While collaborating on Cypress Point, she had located and purchased 570 acres she felt would also be suitable for another exceptional golf course," Beck said. "She persuaded Dr. MacKenzie to apply his golf design wizardry in partnership with her to create Pasatiempo. The course was officially opened September 8, 1929, with a mixed foursome of golfing champions made up of Miss Hollins, Bobby Jones, Glenna Collett, and the British Amateur Champion Cyril Tolley."
Pasatiempo soon became known as a place for the rich and famous. Hollins' guests included Spencer Tracy, Mary Pickford, Douglas Fairbanks, Will Rogers, Claudette Colbert, Vanderbilts, Rothschilds and Chryslers. Babe Didrickson, possibly the greatest female athlete ever produced by the USA frequented Pasatiempo along with Joyce Wethered, the Englishwoman considered by many to be Britain's best female golfer ever.
Ben Crenshaw once said that MacKenzie disproved the theory that a golf architect has to be an outstanding golfer to produce outstanding layouts. MacKenzie wasn't an outstanding golfer, although he improved his game later in life. In 1920, MacKenzie wrote "Golf Architecture" and he laid out 13 general principles for designing golf courses.
Some of these principles are: "A course should be arranged in two loops of nine holes."
"A course should have a mix of long par fours, drive and pitch holes and at least four par threes."
"The greens and fairways should be undulating, without steep hills for the golfer to climb."
"There should be a minimum of blind approach shots."
"The emphasis should be placed on natural beauty, not on artificial features."
"There should be a sufficient number of heroic carries from the tee, but the course should be arranged so the weaker player will have an alternative route open to him."
"There should be a complete absence of the annoyance caused by searching for lost balls."
"Course conditioning must remain consistently outstanding."
"There should be little walking between the greens and tees."
MacKenzie applied these principles to courses he designed in the 1920s and late in the decade he gave Bobby Jones a tour of Cypress Point. Jones was sold that MacKenzie was the man who should design his dream in Georgia -- Augusta National, home of The Masters.
Pasatiempo might be the last of the 1920s courses that actually set a goal to be one of the world's best. When MacKenzie first saw the property he remarked: "It's the closest thing to St. Andrews I've ever seen." That was before the trees you now see on the course.
"And in the early days Dr. MacKenzie really thought his designs were more for match play instead of medal play," Beck said.
MacKenzie said: "I believe one gets far more fun from playing a match for five or ten dollars and licking one's opponent than you can ever get in taking your score. If your score is a good one, you will remember it, but, if it is a bad one, why make life a burden by taking that score."
In other words, Dr. MacKenzie was saying: Have fun, enjoy the scenery, don't get upset with a bad shot and remember the good shots."
Dr. MacKenzie died in 1934 in Santa Cruz, where he resided in a house on the sixth fairway at Pasatiempo. His legacy is found in many world-class golf courses -- Pasatiempo, Cypress Point, Augusta National and Royal Melbourne.
Marion Hollins died in a Pacific Grove rest home in 1944 of cancer, but many felt her spirit had been crushed. By 1937 she had spent all her $2.5 million fortune on Pasatiempo.
Thanks to Ray Apolskis, Pasatiempo's marketing director, for content help on this story.
Coming next week: David R. Holland's course review of Pasatiempo in Santa Cruz -- Dr. Alister MacKenzie's lesser-known masterpiece on Monterey Bay. How Santa Cruz golfers "rediscovered" the prize they had in Pasatiempo and rededicated themselves to the enjoyment of one of the best golf courses in the USA.